WORLD NEWS
Spy Plane Crew Unable to
Destroy All Secrets
Chinese now have Col. Sanders'11 herbs and spices, Jenna Bush's diary, Coke formula.
Widespread Slavery in Sudan, East Africa Causing Big Stir in U.S.
White Mississippians flocking there to buy second homes.
U. S. NEWS
Bush: Military Force an Option
But he would prefer to get his budget approved peacefully.
U.S. Population Center Continues March West, Will Reach Pacific in 2080
Officials fear mass drownings, lawsuits.
Bad News: Court May Allow Tobacco Ads Near Schools
Good news: kids can't read them.
Supreme Court Voids Parts of
1964 Civil Rights Act
But only the parts involving civil rights.
PICTURE OF THE WEEK

SIGNS OF SUMMER
High gas prices and men wearing kilts.
THE FIRST 100 DAYS
EXCLUSIVE INTERVIEW
: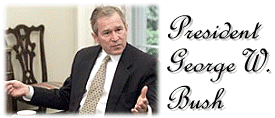 (President George W. Bush has now been in office 100 days. We had been planning an assessment of his term so far, but were pleasantly surprised when the President's appointments secretary told us that Mr. Bush would, in fact, submit to an interview, albeit brief. We agreed, as long as no question was off limits.)
Ironic Times: Thank you for granting us this interview. Given your hectic schedule, we were quite surprised, and flattered.
President Bush: My pleasure. I have a little more time now that the Chinese thing is settled.
I/T: Except for the plane itself, of course, which obviously you want returned.
President Bush: You bet we do.
I/T: What are some of the things on your immediate agenda?
President Bush: Well, I'd love to get down to Texas, to the ranch, and then over to Arlington to catch a Rangers game. Hey, A-Rod's startin' to really clobber the ball, isn't he? If we could just get some pitching. Pitching's everything these days, with the new strike zone and all.
(At this point we were told our time was up.)
President Bush: Hey, thanks for comin'.