FASHION

Eyewear Manufacturer Files For Chapter 11
Maker of "2005" glasses sees sales drop off precipitously after Jan. 1.

TRAVEL
U.S. Airlines Simplify Fares
From now on, direct flight across two geographic zones with connection through hub will cost no more than nonstop seven-day advance upgrade booked online during non-peak off-holiday blackout period.
SPORTS
Baseball: Yankees Sign Everyone
"They all work for me now," cackles owner George Steinbrenner.
ENTERTAINMENT
TV: "Sports Illustrated Swimsuit Model Search" Debuts on NBC
Sports Illustrated Swimsuit Model Search Cable Network Debuts in March.
FEATURE
WHAT THEY WERE THINKING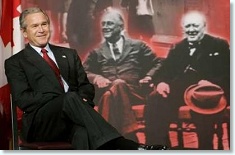 George W. Bush, Franklin D. Roosevelt, Winston S. Churchill, Lincoln Bedroom sťance, White House, Washington, D.C., Sept. 18, 2004.

George W. Bush (left): "I remember thinking how silly this all was, and that if it weren't for the fact Laura went to college with someone who believes in this stuff and convinced her to give it a try, I'd have been out jogging, or sleeping."

Franklin D. Roosevelt (center): "I remember telling my dear friend Winnie how this dimwitted fellow would have sent all our troops into Mexico after Pearl Harbor, and he gave out with a good guffaw. For a ghost."

Winston S. Churchill (right): "In the history of the English-speaking peoples I have never come across a more incompetent buffoon than this Bush chap. But it was good to see Franklin again, and the Lincoln bedroom."